Hi everyone! I'm Suzy from StudentSavvyonTpT.blogspot.com. I would first like to give a big thank you to Kristin for letting me guest post on her fabulous blog! I am a huge fan of the teaching resources she provides! I'm grateful for this opportunity.I love the arts and implementing creativity into the classroom, so while summer is just right around the corner, I wanted to share some creative ocean activities and ideas with readers.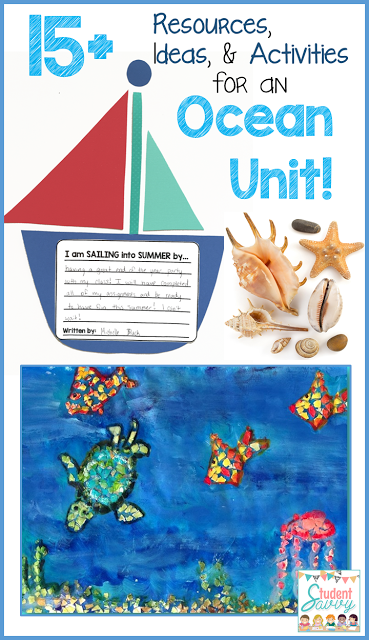 Here is a compilation of ideas and resources to enjoy with your students while learning about life under the sea!
1. Deep Sea Adventures – Readers Theater
Does your class participate in Readers Theater? This takes creative learning to a whole new level! You can find collections of Readers Theater online. Read the script with the class several times and model expressive reading. Have students take turns reading aloud. When students are ready, pair them in groups to perform their script.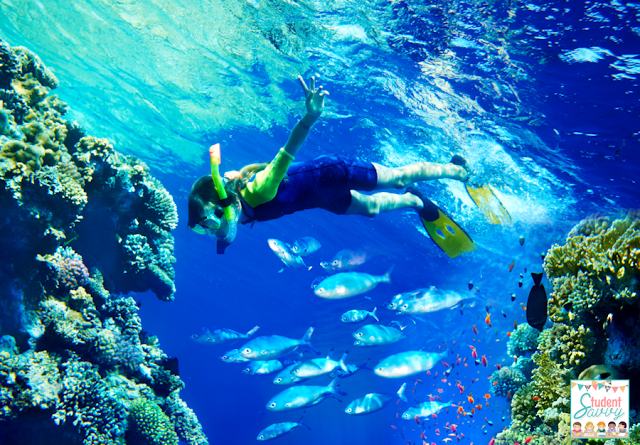 Here's a Readers Theater script for an Ocean Unit – Under the Sea with Jacques Cousteau Reader's Theater Paperback – 2003 by Alan Kramer (Author)
2. Seashell Activities – Classifying & Sorting!
Bring
in a bucket of seashells to the classroom for a science activity. Students may
use magnifying glasses to carefully view each shell and sort them by texture,
shape, and size. They can have an observation journal where they label and
classify their shell, taking notes on each one.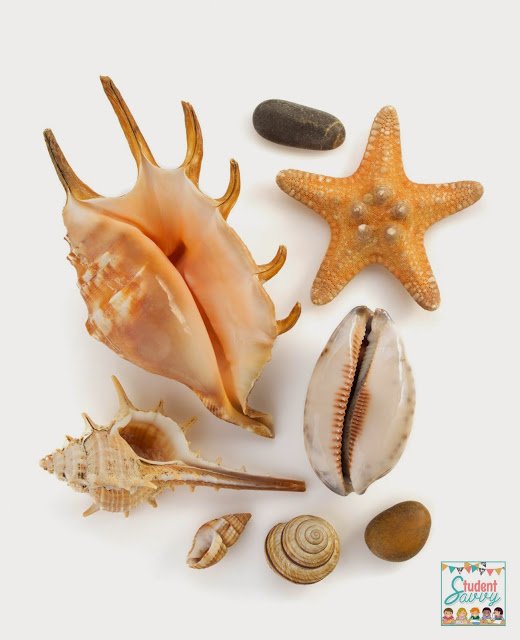 3. Ocean Animal Research Project
Have students choose an ocean animal to do a research project! Depending on grade level, assign them to either create a poster or a written report on their favorite ocean animal!
4. Message in a Bottle Creative Writing Activity
Allow students to do some creative writing. Ask them what they would write if they were to create a secret message to be tossed in the ocean. Ask students to consider who might find their message and what would be their reaction.


5. Eggshell Art
Eggshell art is simple! Ask parents to donate 2-4 drained and cleaned eggshells (They can be cracked and placed in a plastic baggie). Use Elmer's glue (not a glue stick) and paint the glue on construction paper. Place tiny eggshells on the glue in shapes of ocean animals… It creates a unique mosaic-like design! Use watercolor paints to paint over the eggshells once the glue has dried. Here is a sample: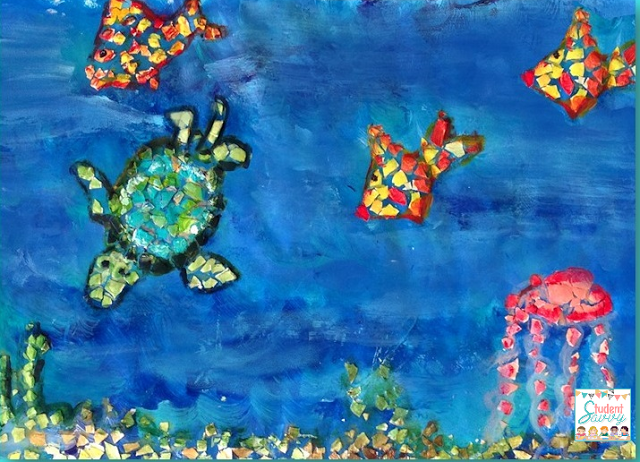 6. Virtual Tour & Field trips
If you and your students don't have access to the beach, check out these online resources!
National Geographic – Ocean Life 
Google Earth – Ocean Showcase
National Marine Sanctuaries – Sanctuary Tour 
7. Sensory boxes/bags with items from the ocean!
Collect sand dollars, seashells, starfish, a bag of sand, driftwood, and tissue boxes. Fill each tissue box with an ocean item and have students feel inside without peeking! See if they can guess what it is while they write down sensory experiences.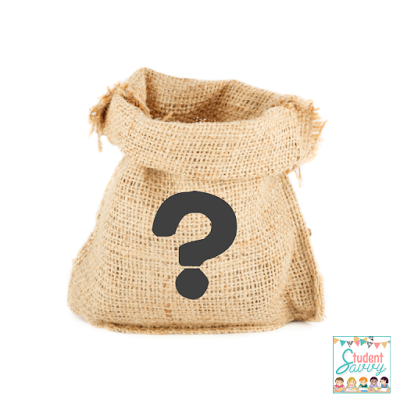 8. Ocean Sounds – Listen and discuss!
Play relaxing music and sounds of the ocean before class begins and during independent work time. Discuss beach and underwater sounds. Examples: seagulls, whales, dolphins, etc.
9. Mural Art and Discussion of Sea Life and Ecosystem
Have students work in groups with large butcher paper. Have them work together collaboratively to create an ocean scene with sea animals, plants, and ocean layers. Have students color and label their artwork.
10. Ocean Dioramas
Have students collect shoe boxes and come up with creative ideas to design their own ocean diorama! If they want to make it completely 3-D, they can find little plastic sea creatures at a local dollar store or shape them from model magic.
11. Ocean in a Bottle Science Experiment – Ocean Zones
You will need plastic water bottles, blue food coloring, & vegetable oil for this science activity. First, fill the bottle half way with water. Add about 10 to 15 drops of food coloring. Use a funnel or squeeze bottle to fill the rest of the bottles with veggie oil. Have students shake it up as hard as they can! (Make sure the lids are on tight!) When the water and oil finally settle, it creates three distinct layers. These layers resemble the three zones: sunlit, twilight, and midnight. Students can label their bottles and take the ocean home with them!
12. Ocean Graphing & Math Activities
Design ocean themed bar graphs and math problems. Bring in a jar of goldfish and have students guess how many are in the container.  Students can make a bar graph of the results and educated guesses!
13. Ocean Read Aloud Books!
Assign students an ocean animal and have them collect images to cut and paste onto a blue folder! They can make it interactive by creating flaps and folds where viewers have to open or pull in order to view the information.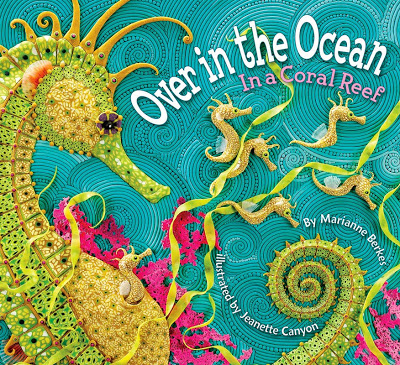 Here are some of my favorite ocean-themed read alouds: 
Over in the Ocean: In a Coral Reef by Marianne Berkes and Jeanette Canyon
Commotion in the Ocean by Giles Andreae
The Three Little Fish And The Big Bad Shark by Will Grace and Ken Geist
In the Sea by David Elliott.
Surprising Sharks by Nicola Davies
14. Ocean Story Starters
Begin your morning with fun & silly ocean story starters such as, "If I could spend an entire day as a dolphin, I would…"

15. Nautical Theme Craftivity Freebie!
Provide students with a morning message that begins an ocean story. "If I lived in the deepest part of the ocean, I would…" Let them fill in the rest! Here is a ocean themed freebie that will get students excited about the end of the school year!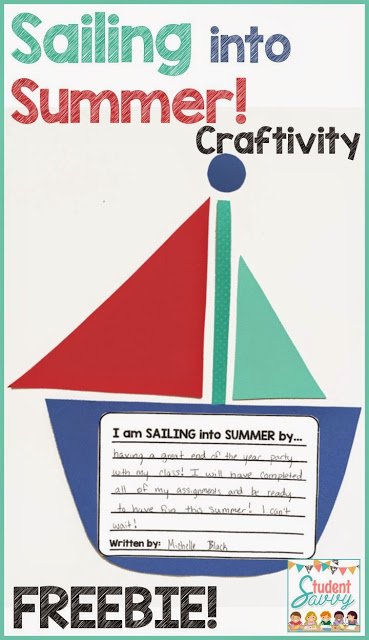 Thanks for Reading!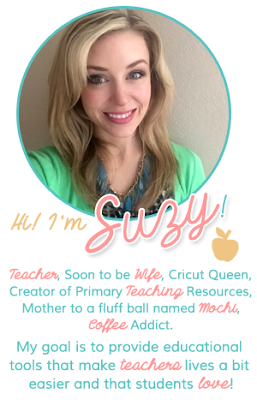 Photo Credit – https://www.dollarphotoclub.com/