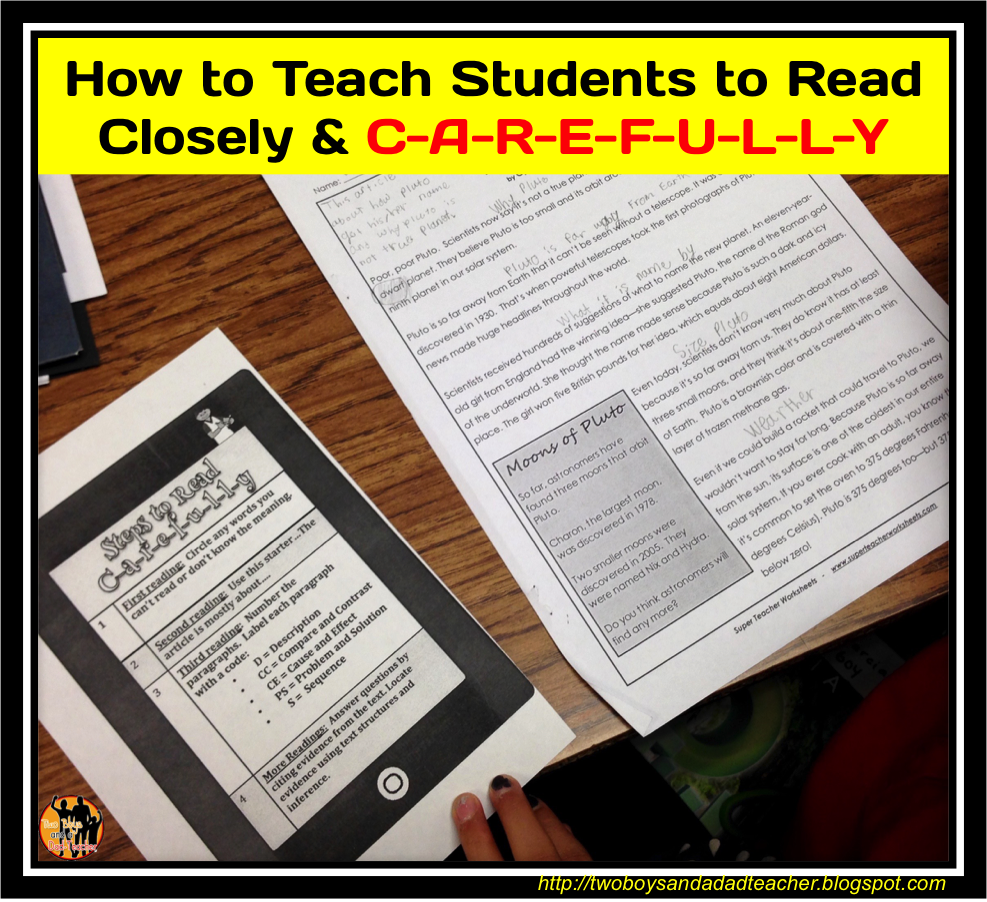 Raise your hand if you're a pro at Close Reading?  Raise your hand if your students are pros at Close Reading?  If you're not sure about it, join the club.  Since Close Reading came along as the newest buzzword in education, many of us have climbed aboard the bandwagon hoping that this is exactly what our students needed in order to fully and deeply comprehend text .  The key to analyzing text is  proper coding and annotation.  Or so I thought.
I've written before of my attempts to teach my students to close read. In a nutshell, what I discovered was that just having them put codes for main idea or connection or an important detail, etc., was not authentic nor was it helping their comprehension in the long run.  Instead they were looking for things to put codes next to without considering the whole text.  So, at the time I came up with 6 steps to have my students use when close reading, which were then later revised to 5 steps.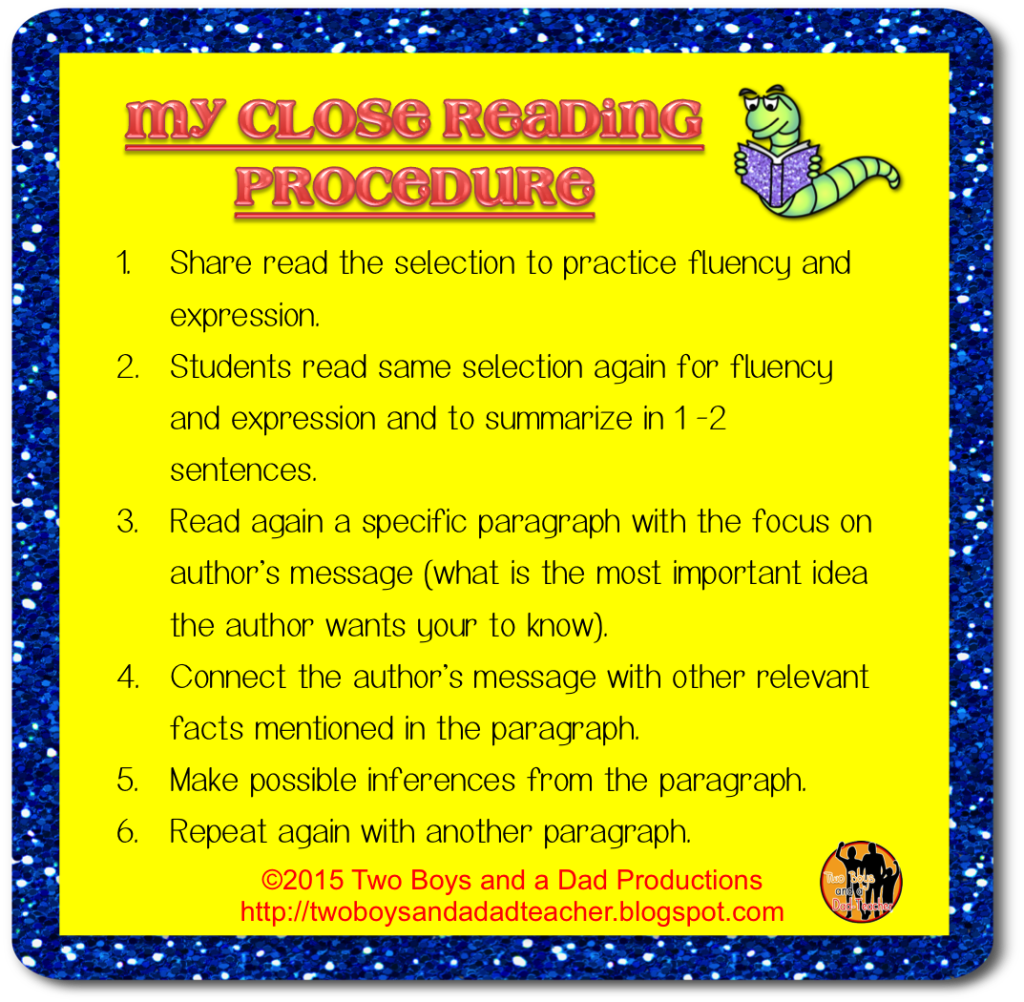 Our original 6 steps to Close Read.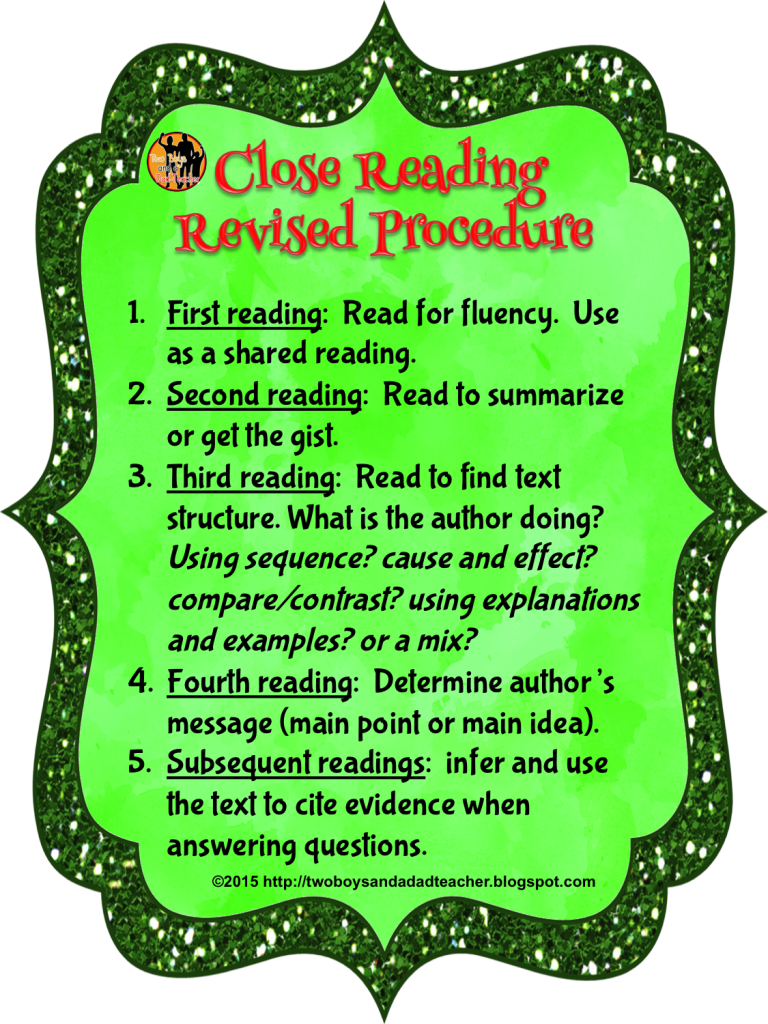 Later, these were revised to include text structures.
Since then, We revised it again and we now have 4 steps (scroll below to see our new anchor chart).  We no longer call it close reading, but reading  c-a-r-e-f-u-l-l-y.  Carefully, means with deliberate intention of noticing the main idea and text structures.  So now the emphasis is having the students summarize what they have read in 1-3 sentences (main idea) and identify text structures.
But let's back up to the first step:  reading for fluency.  Students need to ask themselves if they can read all the words.  Also, if they understand all the words (if not, what text features can you use to help yourself?).  An effective way to establish fluency and word definitions, is to share read the article or passage.  Shared reading supports students who are reading below grade level and provides models of fluency.  It also supports English Language Learners (ELL) with defining unknown vocabulary.
For the next step,  if it is a passage that they can annotate on, they go ahead and write a summary at the top or at the bottom in the white spaces.  This can also be done on a post-it if your using a text book.  It's a good idea to have students partner share their summaries so that they can be held accountable for getting the gist.  Whole group sharing is the final step to make sure they understand what the passage is mostly about.
Our next step is the really the crux or the must crucial step: identifying text structures.  There are basically 5 non-fiction text structures:
problem/solution:  the author presents a problem and possible solutions
compare/contrast:  the author compares and contrasts on a topic or subject
cause/effect:  the author writes about something that happened and why it happened
sequence:  the author uses events, dates or time to write about what happened
description:  the author describes a place, thing or an idea with examples and explanations
Why is this crucial?  When you know how the author crafted the piece of writing, then you know the author's purpose and reason for writing the passage.  You also have an insight as to which paragraph or section to look for evidence when answering text dependent questions (citing evidence).  But can my students now use these steps independently to read and answer text dependent questions?
Before I assessed them to see if they could, it was time to make a new anchor chart.  I had the class come to the rug so that we could interactively write the steps as a chart to use in our class.  The chart is a condensed version of the How to Read Carefully and Steps to Read Carefully handout I made and gave to each student.  You can download a copy of the handout HERE.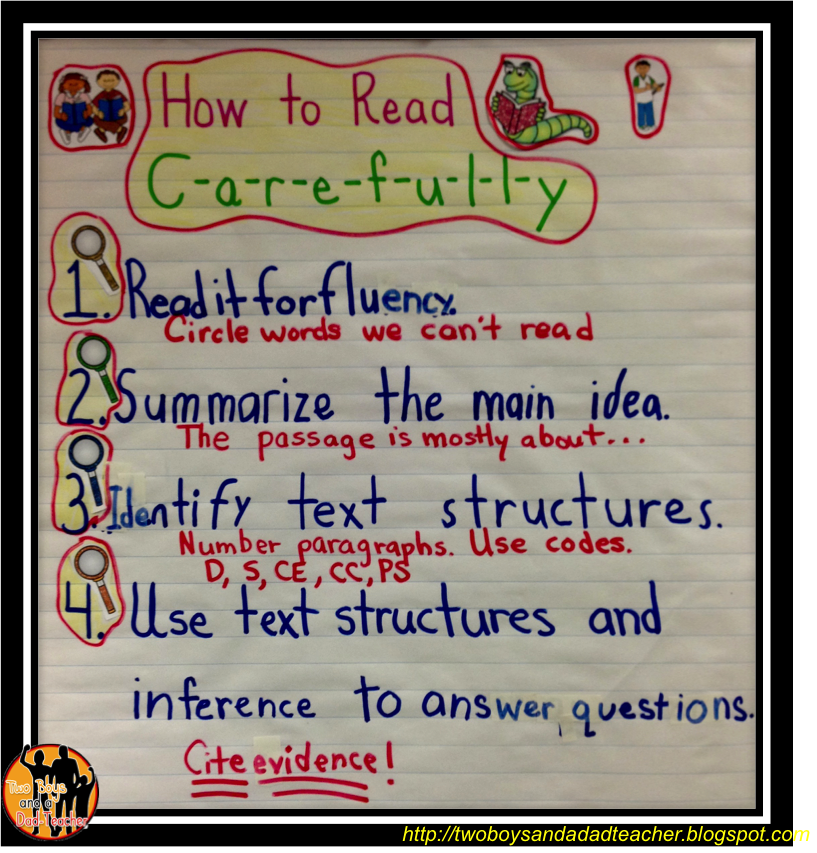 Anchor Chart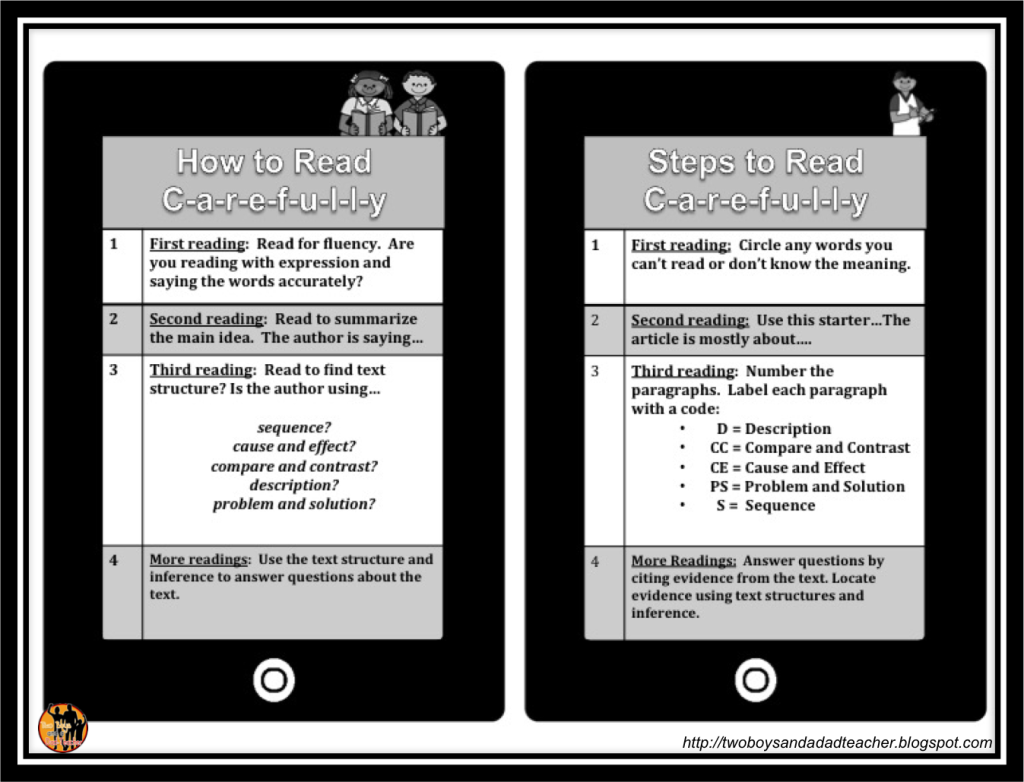 Student Handout for Careful Reading
Recently, we were near the tail end of our unit on the solar system.  We had been practicing these steps with a one sheet passage on each planet, including the Dwarf Planet Pluto.  This was now a good time to assess.  By the way, these wonderful passages I was able to get from superteacherworksheets.com.  Since they are copyrighted, I can only post a link to show you the passage they read:
Pluto.
  I did not use the questions provided, but made up my own text dependent questions which can be seen below: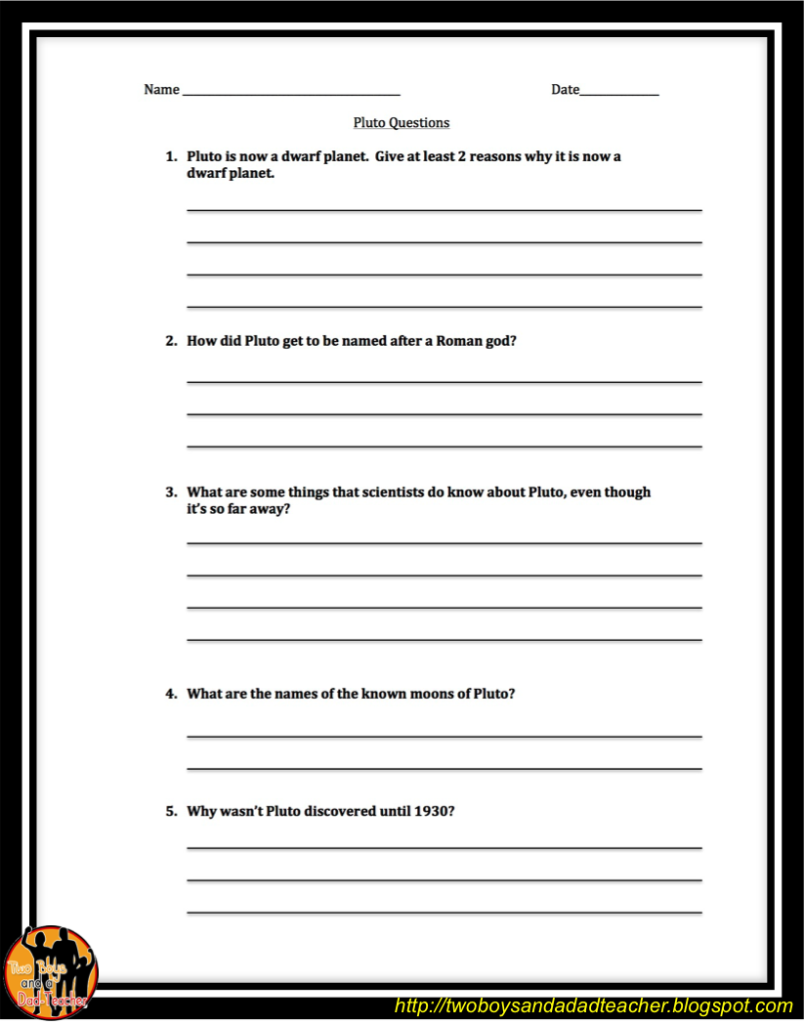 Then I sent them off to read about Pluto and answer the questions on their own.  While they worked, I circulated and watched what they were doing.  Where they using the steps?  What kind of annotations were they using?  Since then, I went over each student's answers and their annotated passage to see what exactly they had done.  First, I checked each passage to examine the annotations.   Every child did annotate the text.  Some annotated by putting headings on each paragraph, while some put a sentence summary to remind them what the paragraph was about.  Every single child with the exception of one, summarized the article in 1-2 sentences.  Every single child annotated the text to show text structures.  Though there wasn't agreement on the text structure of each paragraph, there were was only one student who seemed confused about the text structures and did not identify a text structure in each section or paragraph.  As a result, that student was not as successful as the others.
For the samples of their responses to the questions, I chose one high achieving student, one  benchmark ELL student, one low benchmark student, one low benchmark ELL student and one RSP/ELL student.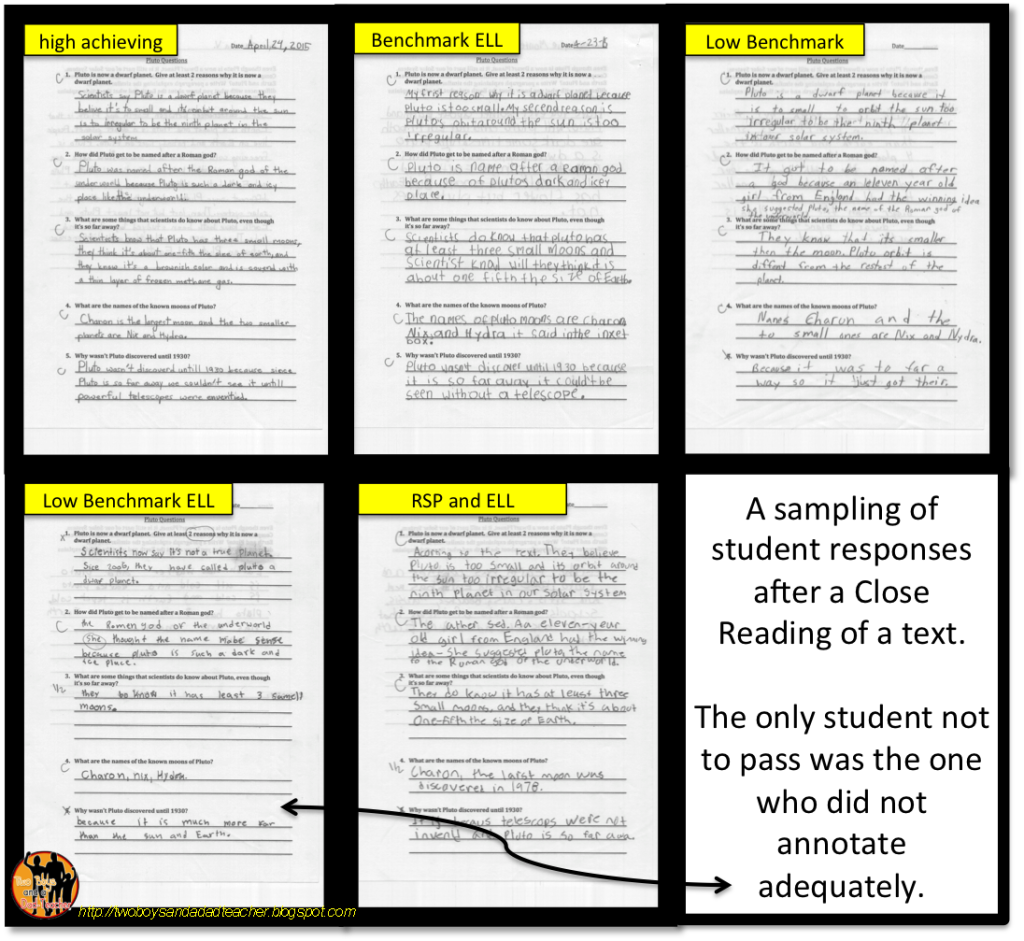 I examined the answers to their questions to see if the questions were answered correctly and that text evidence was cited.  Essentially, what I discovered was that the only student who could not successfully answer all the questions or at least 3 out of the 5 questions was the student who did minimal annotations about the text structures (the low benchmark ELL student).  I can conclude that teaching students to pay attention to text structures does indeed improve their comprehension and their ability to deal with text.  Just look at the results of the RSP/ELL student!  This student normally puts down any answer to "get it over with."  But this time, she annotated and even hi-lighted text which gave her the confidence to successfully get 3.5 out of 5 points!  So by going deeper into the text to summarize the passage and identify text structures gave the majority of the students the necessary tools to answer questions successfully and in turn, show their comprehension of grade level material.
You can read more about my journeys through the common core standards on my
BLOG
, or follow me on
PINTEREST
 and 
INSTAGRAM
or visit my
STORE ON TEACHERS PAY TEACHERS
.  I'm a 30 year veteran teacher who has taught mostly in third grade (current assignment).  I'm also a certificated Bilingual Teacher, trained literacy coach and have served as a mentor teacher.  When I'm not teaching, I'm a single dad raising 2 boys ages 7 and 10 (yikes, here comes Middle School!).