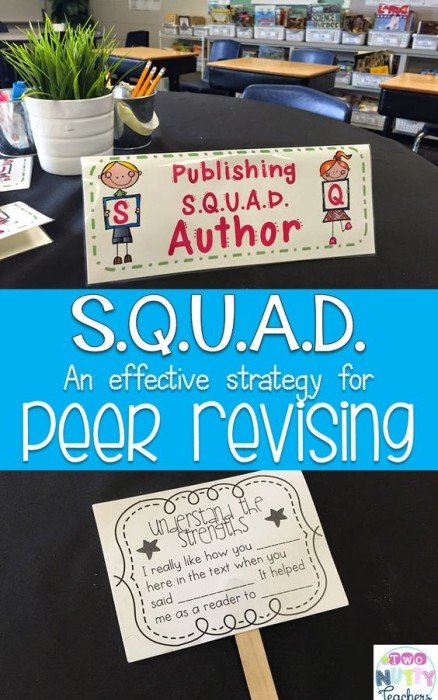 We are so excited to have this opportunity to guest blog for Kristin here at the One Stop Teacher Shop! Guest blogging is the best because of the possibility of creating new connections with amazing teachers! We can't wait to hear from you all!
WHAT ARE PUBLISHING S.Q.U.A.D.S?
Today we want to share a process that Mollie and I created to support our young writers. Publishing S.Q.U.A.D.s are a collaborative revising experience that give students an opportunity to use a structure in order to have meaningful conversations about their own writing.
WHAT IS THE GOAL?
The goal of Publishing S.Q.U.A.D.s is to make conversations about writing more meaningful and to help students to think critically about what they read. In addition to the featured author (more about them in a moment!) receiving feedback about their writing, the remaining group members also benefit from a conversation that is based on what makes good writing, and how you can improve portions of a piece to make it good writing.
HOW DOES IT WORK?
Students are placed in groups of four. One group member is the featured author and will be sharing their work with the rest of the group. We make four copies of each piece of writing so that each student can have their own. Each member (including the author) will have a role and facilitate the various parts of the conversation about the feature author's piece of writing.
The word S.Q.U.A.D. is an acronym for each of the roles in the group.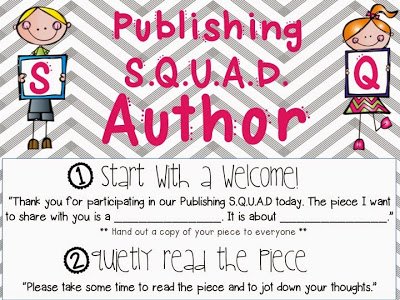 S = Start with a Welcome
Q = Quietly Read the Piece
The feature author is the "S" and "Q". The "S" stands for "Start with a Welcome". The feature author begins by welcoming everyone to the Publishing S.Q.U.A.D and gives a little summary of what they are going to be reading today. I love listening to my kiddos during this time! They are adorable!! They take this so seriously!The feature author then hands out a copy of their piece to each member and asks students to quietly read the piece ("Q").
While students are reading, they should take notes that they will use to share their thoughts with the author. This is a great opportunity for kids to practice their annotating skills. We have kids identify both strengths and areas of need. If they find a strength in the piece, they record a star. If they find an area of need, they write a question mark.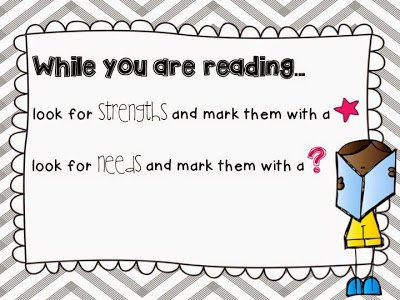 Once everyone has finished reading, the person who has been assigned the "U" role, brings everyone back together and asks the rest of the group, "Who has a strength they would like to share?" It is important that everyone share! Even though each member has a specific role, the process is only effective if everyone is expected to contribute at every step along the way.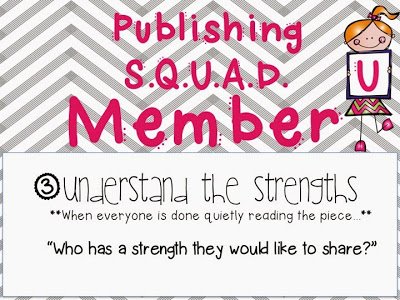 U = Understand the Strengths
After everyone has shared at least one strength, the person who has the "A" role asks the group, "Who has a need they would like to address?" This is a chance for group members to share areas they feel the author should focus on when making revisions. Again, everyone is expected to share something. Although we allow more than one strength to be shared, we ask that students only share one area of need each so that the author does not feel overwhelmed by the suggestions.
A = Address the Needs
Finally, once everyone has shared one area of need, the last group member, who has been assigned the "D" role, asks the group, "Based on what we have talked about today, what do you think will be your focus as you write today?" I have my students call on the feature author first for this part (they have been sitting quietly long enough!) but again, I require all of the students in the group to share one area of focus they will be thinking about as they are writing today. It might be that they identified something in the feature author's writing that they thought was effective and they can share that they want to incorporate that in their writing.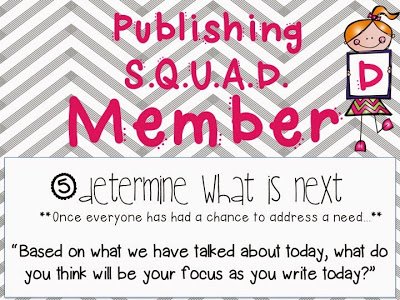 D = Determine What is Next
A FEW QUICK TIPS:
We use table tents to assign a role to each student. The back of the tent includes reminders of what the student's job includes so they are able to refer to it if necessary.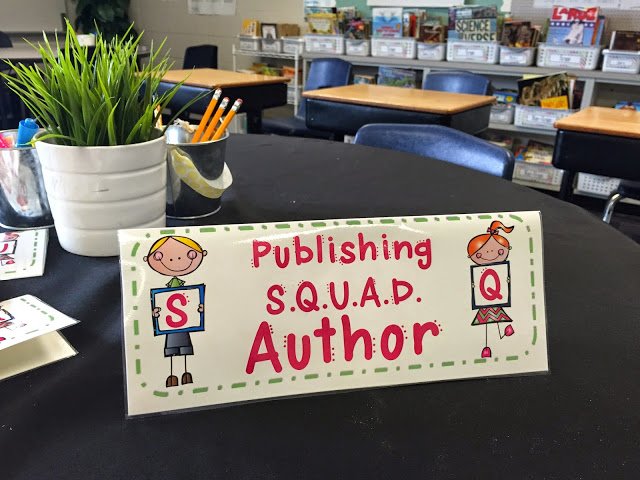 We also use sentence stems to help students share the strengths and areas of need that were identified. We wanted to make sure that kids were sharing not only what was done well or what needs to be improved but also where in the text they found evidence of their point as well as how it helps the reader. We placed these sentence stems on a "talking stick" so that students have the sentence stems right in front of them while they share and it also helped to ensure that only one student is talking at a time.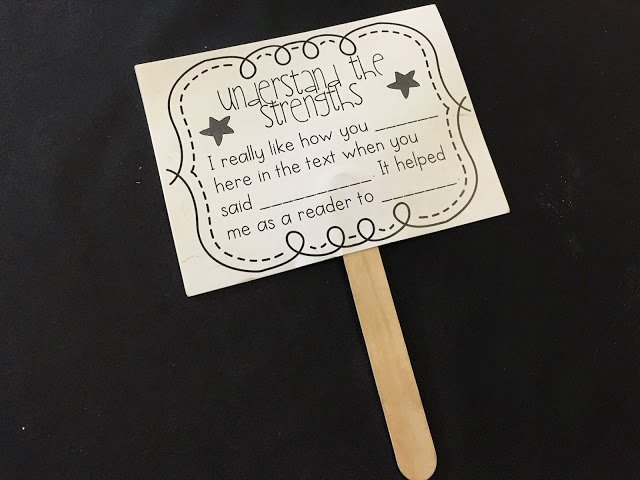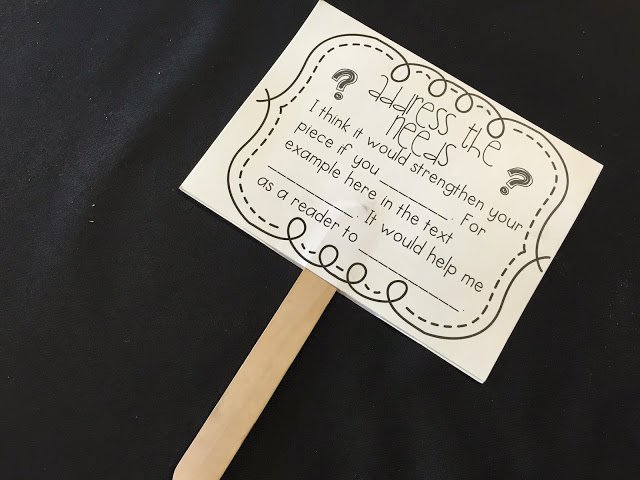 Finally, we also give an anchor chart to each student that they have in their Literacy Binder. It is also something that you could post in the room. This anchor chart is something we add to all year long and serves as a record of all of the lessons we have done that focus on characteristics of quality writing. Each time I teach a lesson (or a series of lessons) that I think should be added to the list students get out their anchor chart and add it. They have this list open and in front of them as they work in their Publishing S.Q.U.A.D.s so they can look for specific characteristics that we have discussed.
Our kiddos have loved Publishing S.Q.U.A.D.s and we feel like our peer revising has gone to a whole new level. Students are more focused when making revisions and they are more reflective about what makes quality writing. If you are interested in trying Publishing S.Q.U.A.D.s in your classroom, you can check out a great resource in our store and/or let us know if there is anything we can do to help!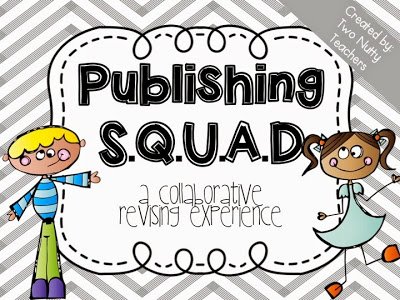 Mollie and Amy are fourth grade teachers in West Michigan. They love creating challenging and engaging activities for their kiddos that embrace and develop life skills such as grit, perseverance, problem solving strategies, and collaboration. In addition to teaching together, Mollie and Amy have become business partners with their Teachers Pay Teachers store, Two Nuts Teachin' from the Same Tree, and have enjoyed connecting with teachers across the country who share the same passion they do, to facilitate a love of learning!
Click the icon below if you would like to check out our store!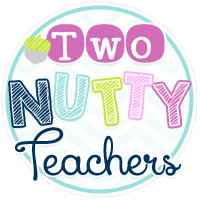 We LOVE sharing information about all of the fun that goes on in our classrooms. Come check us out at twonuttyteachers.blogspot.com!