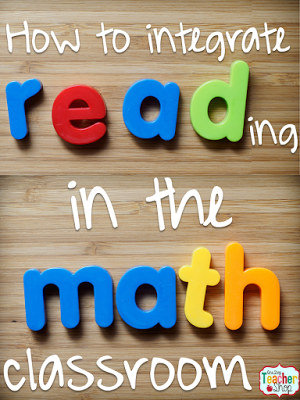 I am excited to have Trisha here today as a guest blogger.  She is going to share her ideas on how to integrate reading into the math classroom.
Math should be an exciting activity for all children!  Incorporating children's literature books into the math lesson can help achieve that goal.  Using a great literature book to springboard a math lesson can really peak students' interest.  So, if you're looking for a new way to add excitement and relevancy to your math classroom, look no further than your school library.
Marilyn Burns, an author and educator who began teaching mathematics in 1962, has become a leader in incorporating literature to address mathematical concepts.  Mrs. Burns stated in 
Education World
, "Combining math and literature in classroom activities is a great way for teachers to invite children into the world of math.  Reading books that weave mathematical ideas into engaging stories helps dispel the myth that math is dry and unimaginative."  Check out more words of wisdom from Mrs. Burns on her new blog  
marilynburnsmathblog.com
.
Many children's books relate to mathematics specifically while others may require a little creative thinking.  Some books involve a mathematical problem that is the integral part of the plot, such as 
A Grain of Rice
 (Pittman) in which the problem involves adding grains of rice to create large numbers to win the love of a princess in ancient China.  In the 
One Dollar Riddle Book
 (Burns), a value is assigned to each letter of the alphabet to create words that equal exactly $1.00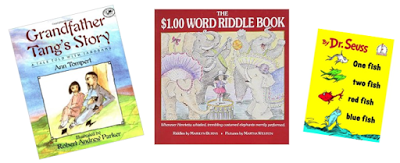 Sometimes, a book may set up a situation where there are natural mathematical problems that could be solved.  
In Grandfather Tang's Story
 (Tompert), grandfather tells a tale using tangrams to create some of the characters.  Upon using tangrams to build the animals and objects, teachers could discuss polygons, fractional parts, area, etc…  
In How Much is a Million
 (Schwartz), characters try to grasp the idea of how large one million is.  This book is a great springboard for lessons on place value.
One Fish, Two Fish, Red Fish, Blue Fish
 (Seuss) may not have very many mathematical concepts within the context of the book; but, it can be a great introduction to creating graphs, surveys or random sampling by just buying a few packs of rainbow fish crackers.  
The Button Box
 ( Reid) is another great book that can help teach attributes, venn diagrams, charts and graphs, etc…  by just providing a bag of buttons from a local thrift store.
I'm not sure it is practical or even possible to use a literature book to introduce every math concept to students but they are a great source to liven up your math class and add a little variety to a subject that can be challenging for many children.  Advice given by Marilyn Burn from Education World is to "just choose a book and dive in.  Read aloud the book to the whole class and discuss it like you normally would and then introduce an activity."
There are many great products on Teachers Pay Teachers and ideas on Pinterest that unite Reading and Math!  In addition, Math Solutions Publications has created two great resources, 
Math and Literature
 (Grades K-3) and 
Math and
Literature
 (Grades 4-6) that both provide more than 20 examples of age-appropriate books that could be used to introduce mathematical concepts.  One of my products, 
The Button Box
 is
free for a limited time
at 
my TPT store
 to help get you started!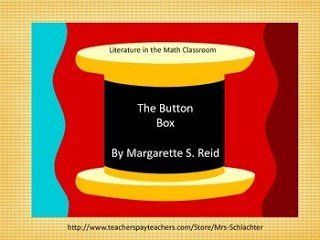 Trisha Schlachter is a 20 year veteran teacher currently teaching science at the middle school level.  "My love of math began at an early age and I shared that love in my math classroom for over 15 years."  Even at the middle school level, students enjoy being read to and were excited when I brought a children's book to Math class.