I LOVE using spiral math review with my students to help them practice and retain what I've taught them! I like to think of my daily spiral reviews as my secret ingredient for why my students perform so well year after year. However, I recently discovered a way to make this "Must Have" resource even better…if you can believe it.  This Daily Math Spiral Review resource has gone DIGITAL with Google Forms!
Now available in Google Forms, these daily math spirals are Self-Grading and Automatically Collect Data!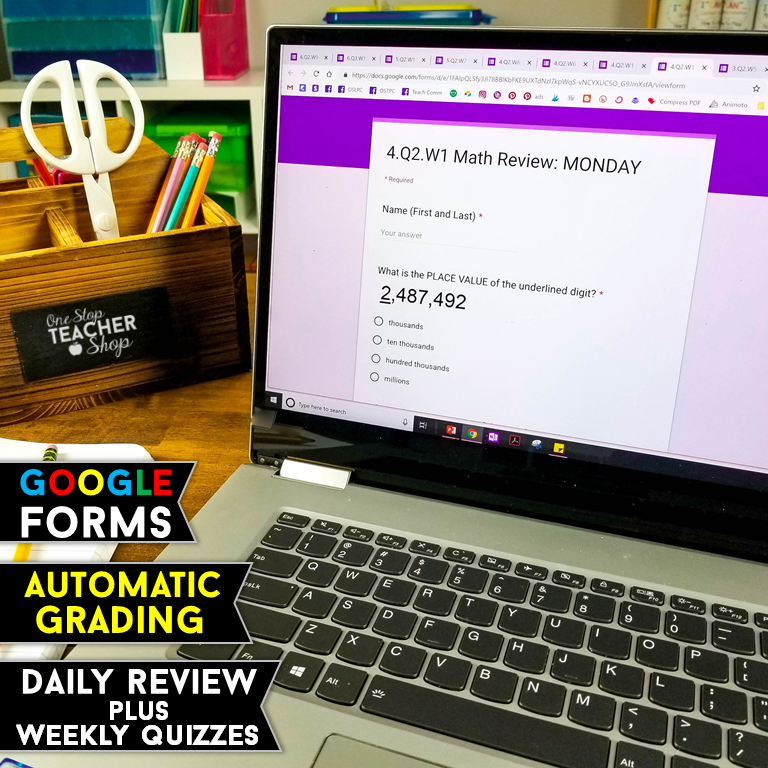 Click your grade level below to get an entire year's worth of spiral reviews, 100% DIGITAL, fully editable, and ready to go.  OR, you can continue scrolling to learn more about my favorite classroom resource.
Click your grade level

to take a closer look!
The Benefits of Daily Spiral Review
Students master and retain grade-level standards in less than 10-15 minutes per day.
Student confidence in math increases.
Students don't forget what they've learned.
Teachers can quickly identify and target students who need reteaching on a day to day basis.
Why you'll LOVE these DIGITAL Math Spiral Reviews & Quizzes!
You get a full year of daily spiral reviews and weekly quizzes!
NO Grading! Google Forms grade themselves. This is a HUGE time saver!
You can rest assured your students will get a quality spiral review every day!
Weekly quizzes make it easy to collect data and grades.
The daily assignments are meaningful and NOT overwhelming.
You can easily see where students are still struggling on a regular basis.
Every Google Form will provide you with TONS of class and individual data, automatically!
It's Editable – change questions or wording to differentiate and fit your students' needs.
When using a spiral review, teachers find students need almost NO test-prep before standardized testing.
Homework completion rates increase! (if using as homework)
It gets results! Teachers spend less time reteaching standards and preparing for standardized tests.
Click your grade level

to get them now!
Also Available for READING!

Click below to learn more!