Grammar skills are often overlooked and not focused on in the classroom. One of the simplest and most effective ways to ensure grammar practice is happening is by incorporating a grammar spiral review system into your daily routine!
That being said, I am excited to be able to offer Language Spiral Reviews for grades Kindergarten through 8th grade.  Join the thousands of teachers that are already using this resource!
Click your grade level to take a closer look!


About this Grammar Practice Resource
Students complete just one column per day.
Each week a new grade-level standard is introduced while still reviewing standards that were already taught.
Questions become more rigorous over time.
The clean layout provides consistency.  Students learn the routine and know the expectations for each day.
The entire week fits on just one page. This helps schools and teachers save on copies while still providing a meaningful review. There is a MORE SPACE version also included!
This entire resource is 100% EDITABLE (Microsoft Word & Google Docs). You can easily edit, copy, paste, or delete anything and everything.
Can easily be used as homework, morning work, or literacy centers.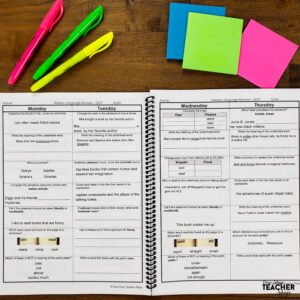 Why Teachers Love It!
Makes homework or morning work more predictable and easy to complete.
Students are exposed to multiple standards every day, keeping their skills sharp.
The daily assignments are meaningful and NOT overwhelming.
Each week focuses on a particular skill while still reviewing skills you've already taught.
The progress monitoring section holds students accountable for their learning.
Parents appreciate the consistency of the grammar practice homework (if using as homework).
Teachers can easily see where students are still struggling.
It's Editable – change questions or wording to differentiate and fit your students' needs.
Teachers find students need almost NO test-prep before standardized testing when using this resource all year.
Homework completion rates increase! (if using as homework)
It gets results! Teachers spend less time reteaching standards and preparing for standardized tests.
Click your grade level to take a closer look!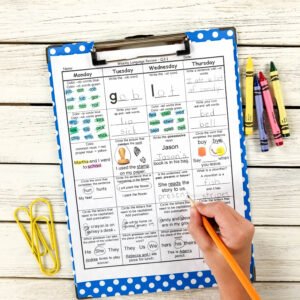 What teachers are saying