About 5 years ago I overheard some colleagues talking about spiral math homework.  Of course, being the person I am (always looking for something better) I had to look into this spiral homework.  I discovered a strategy for homework where instead of just assigning pages from a workbook or worksheet, students were strategically given a handful of math problems each night in which many of them reviewed skills and concepts that were previously taught while others focused on new skills.  Math concepts spiraled through the homework given each day, week, month….hence the name "spiral" math homework.
It was love at first sight!  Being the control freak that I am (oh wait…I'm pretty sure most of us teachers are) I knew this was the homework strategy for me.  Although there were some versions of this homework out there, none of them were exactly what I wanted (or needed).
My checklist for "the most ideal math homework" went something like this…
1. I wanted a variety of problems (not just computation)
2. I wanted to review key concepts I had ALREADY taught. (versions I saw went ahead of my teaching.  I didn't like this because I don't like the idea of sending home problems I haven't yet taught my students.  This just confuses the kids as well as the parents!)
3. The difficulty of the new problems had to progress with my students' learning (start out easy, and slowly become more rigorous)
4. Finally, ANSWERS!!!!!  How can I effectively check my students work in the morning (or review it as a class) if I don't have an answer key?
I don't think this is too much to ask for….is it?
I immediately got to work, and each week one of my colleagues and I began creating our version of "spiral homework".  It was beautiful!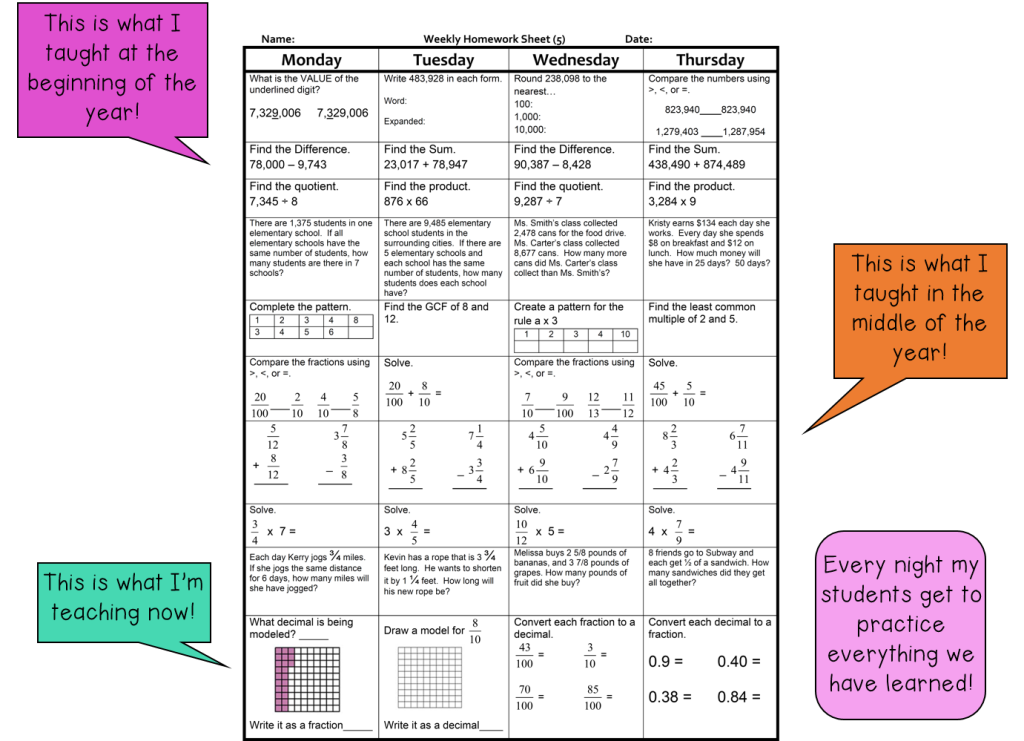 How It Works!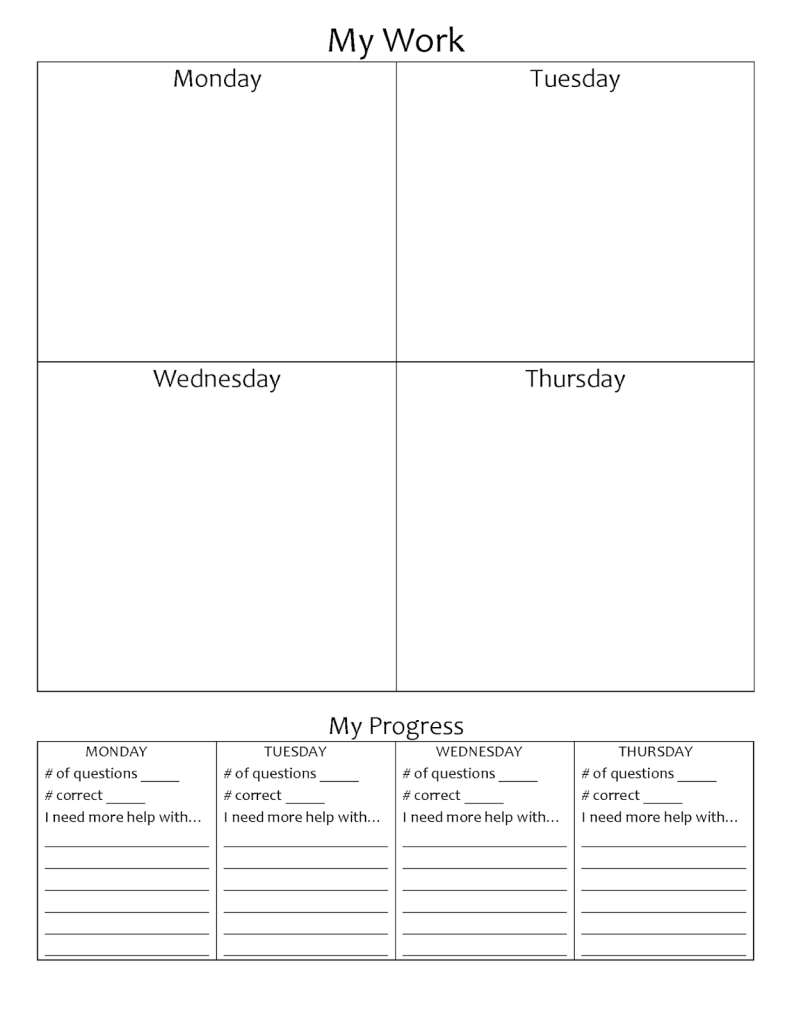 A page for students to check their progress and show their work!
Benefits I notice year after year…
1. Less test prep required at the end of the year.
2. Daily practice helps students sharpen their skills.
3. Students don't forget what they have learned.
4. Provides me with a daily opportunity to see where my students are still struggling.
5. Students are more likely to do their homework because it really doesn't take that long.
6. Parents like the predictability of the homework.
7. Parents can see exactly what their child needs to know.
8. No excuses from parents or students about not completing homework.
9. SAVE Paper! 🙂
10. Easy to differentiate (edit) so that I can change up the difficulty of questions as needed.
Each year after creating this, I continued to tweak it, fix it, correct it, change it, and just last year, align it to the new Common Core Math Standards. It was not until just this year that I decided to put it up for sale on Teachers Pay Teachers, and WOW…it has been a total success!  Looks like a lot of people needed homework like this.
One cool thing is that, unlike many of the resources on Teachers Pay Teachers, this one is 100% editable.  I couldn't imagine not being able to adjust this homework as needed, so I figured other teachers would appreciate this feature as well!
If you want to check out this homework for FREE….click here!  I put a few weeks worth of homework on Teachers Pay Teachers for FREE because I wanted people to see how AWESOME this homework is!
You can pick up this math homework for grades K-12!!!  Click the links below to see more.
Check out my other post on using this homework to ELIMINATE test prep stress!